Let Brush Strokes help with your commercial property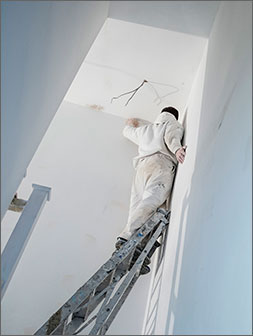 For commercial buildings in South London or North Kent, we're the local decorating service you can rely on.
Whether it's an end-of-tenancy refresh, maintaining a communal building, or decorating your offices or retail premises, our experienced decorators will work around your business needs to maximise the appearance of each property – on time and on budget.
We operate with minimal disruption, and are happy to work outside your usual trading hours when necessary.
We're so organised and methodical, that in some cases we even finish before the scheduled completion date, without ever compromising on quality.
Our workforce is flexible so we can handle projects of any size. By delivering work of excellent quality, we help you build a stronger relationship with your clients.
Before the start of any project, our decorators and any other trades attend a full health and safety briefing, where we equip them with all safety essentials, including hard hats, steel-toe boots, and high-visibility jackets.
Of course, we will submit a full risk assessment and method statement before we start work.
Our commercial services have been chosen by: